5 Tips for Improving Your Annual Report
Balancing the primary requirements of an annual report with the marketing needs of diverse stakeholders requires a keen sense of objectivity, transparency, and narrative. Outlined in this article are 5 tips for improving your annual report planning, execution, and distribution.
Leverage Your Brand
Who are you? Consider that many people looking at your annual report are new to your organization. They may have some understanding of what you do, they may understand how you do it, but it is the function of a brand to ultimately articulate why you do it. This goes a lot further than having a logo, or visual consistency. Whether you are a Fortune 500 company or a small nonprofit organization, having control of your voice across the way you communicate data, stories, and develop marketing collateral can give your audience a sense of who you are and why they should support you.
Example: The Downtown Women's Center 2014 Annual Report
The Downtown Women's Center had just rebranded their organization and although they had a toolkit with a new logo, colors, some fonts, and photography, the annual report we designed for them for 2014 expanded on how those elements could really come together and come to life. This report leveraged the opportunity to showcase the new brand and potentially get new people interested. Bold color blocks, a strong grid, and full bleed photos of real DWC beneficiaries created a vivid report, gave insight into the the organization's impact, and established a system for the brand that could be recognized over time to cultivate the trust necessary for donors and advocates to participate.
What Do You Need to Communicate?
By thinking strategically, you will uncover the best tactics for writing, organizing, and showcasing your content. Not only will this help you understand how to leverage your current resources, but also consider the tone of voice, and graphical style for the report. Particularly when it comes to solving communications challenges such as confusion in the market about what you do. For some organizations this means taking a moment to collect stories from stakeholders and telling them in a succinct way that shows relatable context for your reader.
Practice Using Data for Storytelling
Data doesn't have to be boring, and using a narrative to digest data is a more interesting and entertaining way to get through large sets of numbers. Consider ways that you can create a story with numbers. Consider adding context to your numbers by framing numbers in terms of time or place, personalizing or localizing numbers, or making direct comparisons with things that are more familiar to the audience. You can also try throwing in a bit of irony to highlight any misplaced societal values. These can include how we spend more on products with little impact than we do on solving big societal issues.
Example: The Downtown Women's Action Coalition 2016 Needs Assessment Report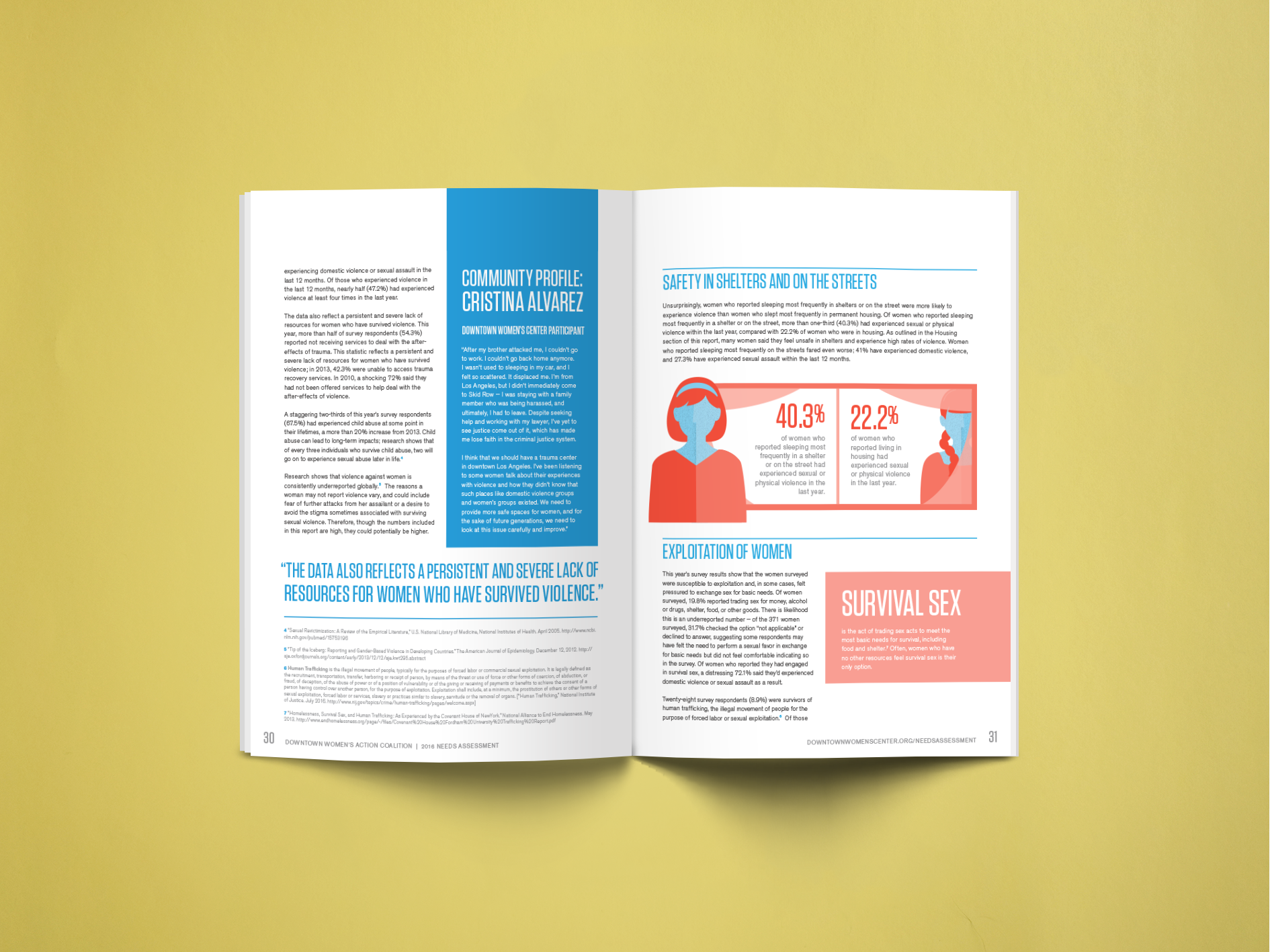 For the Downtown Women's Action Coalition we had the pleasure of joining volunteers to take surveys of Skid Row's female homeless community before designing the Needs Assessment reports. This experience highlighted the importance of humanizing the data to tell the story of these women. For this report we created custom illustrations for as much of the data as possible. These illustrations allowed the readers to not just see the numbers, but understand the tone and significance of the insights through the lense of the real people affected. Visual symbols and illustrations are evocative, they able to convey a message or feeling without words and therefore communicate quickly and to people that speak different languages or think differently. Replacing complex language with a more universal one will allow your data to reach and be understood by more people.
Understand Different Types of Infographics
Infographics became all the rage when social media proved to be a viable communications channel for visually displaying data. But did you know that infographics range from graphical approaches that span academic/scientific, to marketing, to editorial? Each of these purposes calls for a different approach to helping the content appeal to the audience, comprehend the information, and ultimately retain it in order to recall when necessary. Some designers such as Yale Professor Edward Tufte have gone as far as coining the term "chart junk" for graphical elements that do not have quantitative value. When working with a designer, it is key to be able to 1. Pick the best data that helps tell a story, and 2. Identify the best type of infographic for your primary audience.
How Will You Get the Word Out?
While content is at the core of the exercise, having an understanding of how you will distribute the report will not only help you allocate your resources accordingly, but also inform your designer as to what opportunities and constraints they must work with. In many cases this means knowing whether this annual report must live in a kiosk within the lobby of a high traffic area, or whether it makes sense to draw chunks of information from this report for long term distribution on social media platforms like instagram. Some organizations can go as far as creating interactive digital content in order to showcase their impact. These are a few examples of the way design can help the document be most effective and potentially serve as a multi-format piece.
Example: The Downtown Women's Center 2015 Annual Report
Much of DWC's donor audience communicates through the mail. To connect to this audience, be flexible to new audiences, and maximize a smaller annual report budget, we created a more consolidated annual report for 2015. This challenge resulted in a design that showcased the experience at the Downtown Women's Center--a welcoming brochure that unfolds to reveal relevant information, guided by beautiful photography of real DWC women and staff. The content was broken down into a few simple categories to fit the flow of each panel. This grided, panel design not only allowed the brochure to bend and fold down to a mail-friendly size, but also allowed the information to be easily broken down into sections that can be shared individually and digitally for a different audience.
Overall, we recommend working with a professional that will help guide you and your team's effort so that your story can be most effective within the hearts and minds of key stakeholders. The ultimate goal of every business leader is to inspire confidence and showcase the clarity and effectiveness of their strategy. This ability to show the inner workings of an organization not only serves as evidence of hard work, but also has the ability to prove to supporters that the organization is transparent and has the honesty to showcase their results, and yes, challenges, in an appealing way.