Women's Design Salon Recap
Last month at the verynice Women's Design Salon: Feminine Voice, we heard each other's stories and learned about Elle Luna's experiences. The painter, designer, speaker, and author of The Crossroads of Should and Must: Find and Follow Your Passion, walked us through the lessons in her new book, Your Story is Your Power: Free Your Feminine Voice.
Here is a great reflection on the event by Los Angeles designer, Kat Park:
"That was intimate."
The volunteer sharer standing in the middle of room offered that statement a little sheepishly after realizing she had perhaps involuntarily over-shared some stories from her personal life.
And it was intimate. The setting for the night featured a tidy spread of sandwiches, wines, juices and snacks for a small gathering of people, mostly women, who had come to hear Elle Luna, artist/designer/author of "Your Story Is Your Power," speak. The room was quietly lit and we were all sharing personal memories and stories with each other at Luna's request. So yeah, it was intimate. How could it not be?
This might have been Luna's goal, though, as she spoke extensively about story: not only the stories we are told by the world at large and the stories we tell others, but also the stories we tell ourselves. Luna's talk had moments built in for intimate conversation, the kind of talk that usually requires permission to share because it just might disrupt a mutual peace. The topics ranged from experiences with misogyny, to memories of families and childhood. They were interspersed between slides of Luna's own illustrations and quotes from others on the importance of story, investigation, and your voice.
While we've come to expect from talks and speakers a kind of riveting and impassioned thesis of wisdom or life changing affirmation, what Luna offered that evening was an intimate moment for people to open up and share something with each other.
We all know there are a million ways to tell stories and connect. You can Snap, Like, Heart, Re-tweet, Add, Friend, and Follow whoever and whatever you like. But this kind of access rarely results in openness. Our stories and connections can feel inauthentic and guarded. The invitation to just turn to the person next to you and share something intimate, even in its awkwardness, felt like a relief.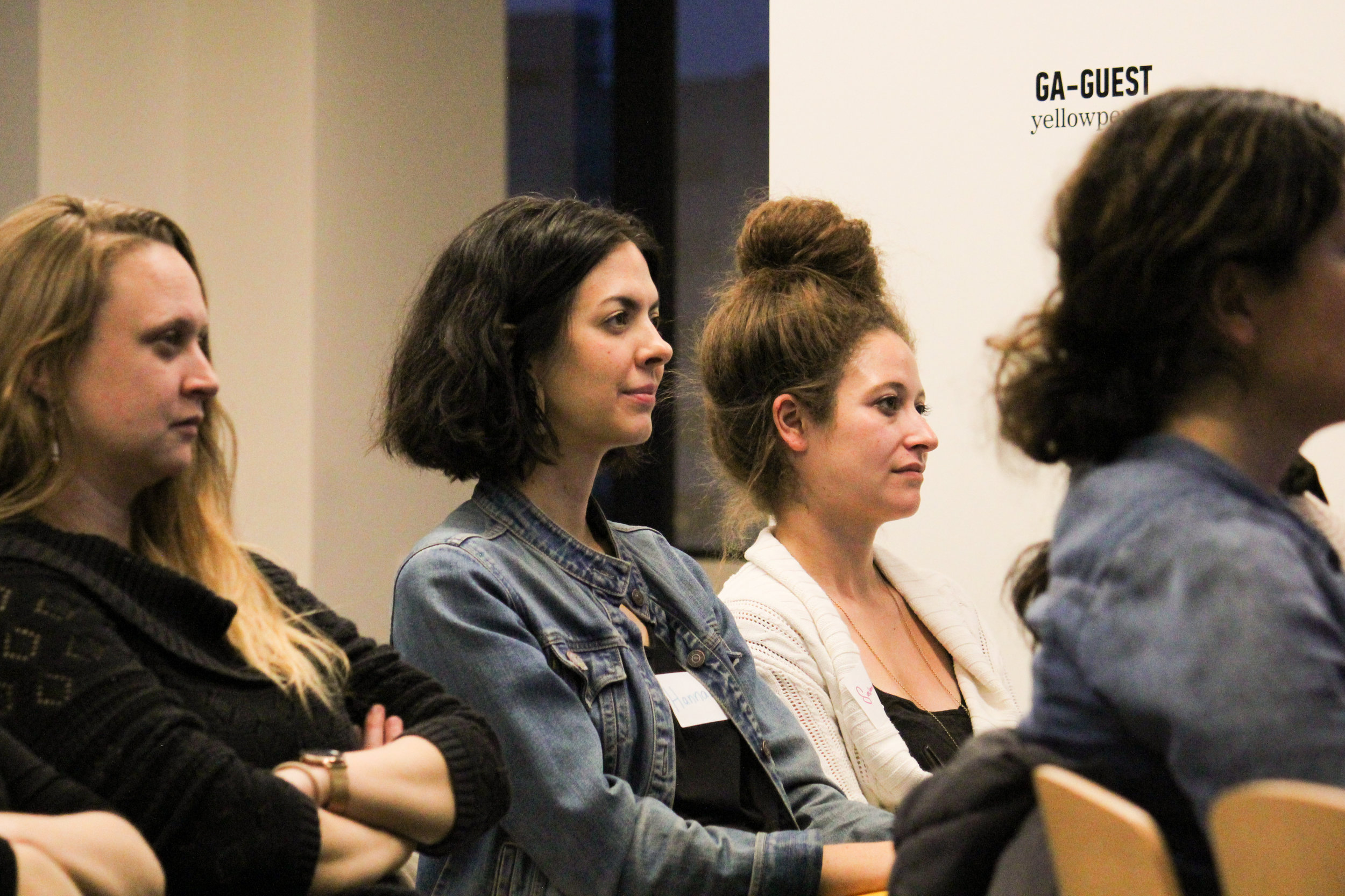 A very special thanks to all that contributed to the inspiration.
Our friends and partners:
General Assembly Los Angeles
Califia Farms
Workman Publishing
Vroman's Bookstore
Vanessa Dewey
Our amazing speaker:
Elle Luna, Designer, Speaker, Author, and Artist
Our super event hosts:
Clarisa Valdez
Alisa Olinova
Our wonderful volunteers:
Wilmer Gonzalez, Visual Recap
Kat Park, Written Recap
Olivia Sy, Photography
"In a very real sense we define our lives through our stories. Understand these stories, along with the motivations behind them, and we can positively change how our future unfolds."
Be sure to check out the book Your Story Is Your Power: Free Your Feminine Voice!
Please follow WDS on Instagram to stay in the loop! Interested in getting involved with the Women's Design Salon? Please get in touch at info@verynice.co